The 2021 Subaru Love Promise Customer and Community Commitment Award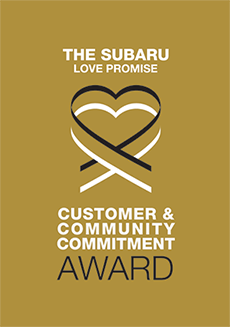 We've been nationally recognized for our dedication to our customers, our community, and the Subaru Love Promise.
We're honored to receive the 2021 Subaru Love Promise Customer and Community Commitment Award. This award nationally recognizes elite Subaru retailers who provide an exceptional customer experience at every interaction with Subaru. These retailers have also demonstrated an outstanding commitment to supporting passions and causes in their local communities in important areas such as the environment, community, health, education, and pets.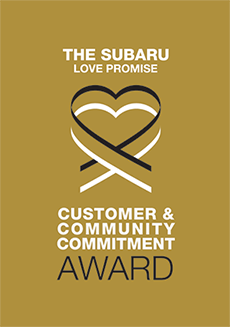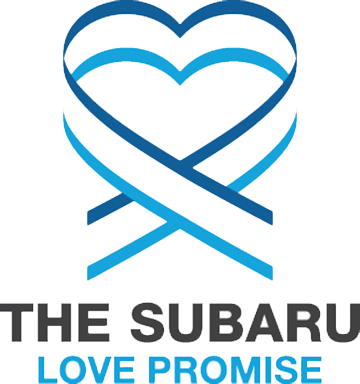 What is the Subaru Love Promise?
Subaru and our retailers believe in making the world a better place and the Subaru Love Promise is our vision of respecting all people. This is our commitment to show love and respect to our customers and to work to make a positive impact in the world.
How is Brown Subaru dedicated locally to the Love Promise?
Our Love Promise can be seen in various partnerships with local charities and non-profits. We're grateful for the opportunity, not only to be a part of our community, but to serve it as well.
Love Promise Stories from Brown Subaru
Subaru and Brown Subaru believe in making a positive impact on the communities in which we live and work. We uphold that belief through our Love Promise Community Commitment. Every month, we select inspiring stories from customers and partners from around our area who strive to support our collective commitment and feature them here
For the love of the game, Thanks Brown Subaru - Jennelle D
Top of Texas Youth Football League is a nonprofit 501C3 organization that has been teaching the basic fundamentals of football, sportsmanship, self esteem and leadership to our youth in the community since 1997. Our league is a competitive football league made of 2 divisions, 3rd/4th grade division and 5th/6th grade division. TTYFL has had players from our organization recruit to colleges and even play in the NFL. Brown Subaru has been a proud sponsor of our league for many years and without their local support, these youth players would have a harder time with required equipment, playing conditions of the field and uniforms. TTYFL operates on a shoestring budget and relies on local sponsors. Subaru has been there for these kids every year. Their contributions helps with so many areas and if kids can't afford to pay their registration fee, Subaru's contribution can help out with that as well. You will find Brown Subaru on the back of jerseys, on our website, social platforms and from our announcer during games. TTYFL is super thankful for Subaru and we look forward to our partnership for many years to building champions and successful athletes for the future. Thank you Brown Subaru! Top of Texas Youth Football League
---
Amarillo Cares - Zack W
Brown Subaru has always been passionate about helping those struggling with hunger in the Texas Panhandle. Earlier in the year 2020, we had the opportunity to partner with Brown on a food drive that helped raise food and funds for the High Plains Food Bank and our pandemic relief. The response was tremendous and they were able to raise enough food and funds to help us provide 50,233 meals to the Texas Panhandle. In addition, Brown Subaru found ways to help engage local schools to give back through their food drive. We are greatly appreciative of Brown's commitment to help us fight hunger on the High Plains during this unprecedented time!
---
Rising to the Challenge - Dyron H
Subaru gave Snack Pak 4 Kids® a critical donation from last year's Subaru Share the Love event just as COVID-19 began creating chaos in our community. While COVID-19 has brought about a variety of changes to how we operate, our mission remains the same and our commitment has not wavered. Overnight, we lost 90% of our workforce and had the need increase by 75%. Twice-monthly "pack nights" that filled the warehouse with hundreds of volunteers have been replaced with small groups of volunteers who are scheduled nearly every day to pack individual bags one pallet at a time. We have not missed one week of serving our kids thanks to the dedication and support of our volunteers and donors. As of Thanksgiving, we have provided a consistent source of nutrition to our kids for 36 consecutive weekends. Snack Pak 4 Kids® provides weekend nutrition to thousands of Texas students by providing brand new, brand name snacks each Friday. While many students can receive breakfast and lunch at school, the weekend can be a time of uncertainty for those experiencing food insecurity. We fill this gap each week with high protein, whole grain food, delivered discretely to a student's locker or backpack. 100% of your donation to Snack Pak 4 Kids® is used to purchase food for our students. Kids can't learn when they're hungry, but they can change the world when they're full.
---
Brown Subaru Blanket Delivery 2019 - Renita S
The Leukemia and Lymphoma Society of North Texas had the amazing pleasure to partner together with Brown Subaru on June 28 for their Subaru Loves to Care Program. As one of 8 neighborhood retailers, Brown Subaru delivered 80 blankets and 10 arts and crafts kits to Texas Oncology Amarillo, while also conveying hope, warmth, and uplifting words of encouragement to those currently being treated and battling for their lives. Each blanket came along with a personal note of hope written by the customers and staff of Brown Subaru that the patients absolutely loved reading. The Leukemia and Lymphoma Society of North Texas is beyond appreciative for the kindness and commitment of Brown Subaru not only for our mission but also to those in our local community. Seeing the joy on patients' faces as the blankets were personally delivered was extremely rewarding and heartwarming. We are honored to collaborate with an organization that offers back to the absolute most meriting individuals and carries light to the darkness of a cancer diagnosis.
---
Subaru Loves Rogers Elementary! - Terri H
For the past 3 years, Subaru Share the Love has been working with the students at Rogers Elementary in a variety of ways.They have supported our school/community garden with seeds, rain gauges, and bird feeders. They have provided our students with brand new books! The squeals of absolute delight have filled our hallways when 150 students receive brand new books. They read them regularly and talk with their friends about the books they have chosen. In addition to supporting our garden and student libraries, this year, Subaru has adopted Snack Pak 4 Kids and donated $13,260 which will directly impact 90 students at Rogers! Nine years ago, Snack Pak 4 Kids began at Rogers Elementary serving 10 students. This year, we send home 242 bags of food each week for our students who are in food insecure situations. Our students rely on Snack Paks and often share them with other family members. It is a blessing to know that none of our students have to be without food over the weekend because of donors like Subaru. Since Snack Pak 4 Kids began serving our students, the number of students who are absent on Fridays has decreased dramatically in addition to the number of students who ask to see the nurse with stomach aches on Monday mornings. Children are able to be in class learning because of the support of our community. Thank you, Subaru!
---
Brown Subaru Support Snack Pak 4 Kids - Dyron H
We are so grateful to Brown Subaru for generously partnering with Snack Pak 4 Kids during the 2018 Share the Love Event. With Brown Subaru's support, SP4K will be able to provide brand new, brand-name food every weekend for over 320 kids at Rogers Elementary throughout the school year. We began feeding 10 kids each week at Rogers Elementary in 2010. Today, the program has grown to serve more than 10,000 kids in 53 school districts. And, thanks to our generous partnerships and a steady stream of volunteers, 100% of all donations given to SP4K are used to purchase food for hungry children. Thank you for your ongoing commitment to the kids in our community!
---
Brown Subaru Shares the Love with FCM - Madison G - Madison G
Brown Subaru generously partnered with Faith City Mission in Subaru's 2017 Share the Love Event to help the homeless and hurting. FCM is very thankful for Brown Subaru's support in our mission to provide hope to those in crisis through feeding the hungry, clothing the naked, sheltering the homeless, and our discipleship programs for those affected by poverty and addiction. One of our students in the Hope for Men program says thank you: "At Faith City, I'm getting my life back, and my son is getting his dad back." Thank you, Brown Subaru, for choosing to Share the Love with Faith City Mission. You truly have a direct hand in providing hope and change in the lives of men, women, and children. Thank you!
---
Brown Subaru gives back and helps local children! - Jennifer L
Hometown Charity Accepts Donation from Subaru's Share the Love Event!Amarillo Children's Home accepted a $7,078 check Thursday, April 27, 2017 from Subaru of America, INC. for our participation in the 2016 Subaru Share the Love event. We celebrated with dinner catered by Leal's, and a meeting held with the entire Brown Automotive staff; the check was presented to Amarillo Children's Home, and a speech was given by the President of Amarillo Children's Home, Darrin Murphy. Subaru and its retailers such as Brown Subaru of Amarillo partnered with national charities and local hometown charities such as Amarillo Children's Home, for the Subaru Share the Love event in 2016. Subaru donated $250 for every new Subaru vehicle sold or leased from November 17, 2016, through January 3, 2017.At Amarillo Children's Home, our mission is to restore the identity of children, so they can realize their great value and be a blessing to others. Since 1924, Amarillo Children's Home has given a home and a family to thousands of children living in foster care in Amarillo. For kids age five through young adults, we provide love, structure, a sense of belonging and training which allows them to give back to their community as respectful students, diligent workers and volunteers, dedicated moms and dads and honest businessmen and women. Thanks to Brown Subaru for helping foster generational change starting here in Amarillo, Texas!
---
Brown Subaru Shows the Love! - Jim and Linda M
We just returned home from a 5,828 mile road trip around the USA. On Nov 8, while driving Rt 40 from Albuquerque to Amarillo, the "check oil" light came on in our 2015 Forester. It was just after five o'clock in the afternoon. The light only stayed on for about five minutes, but we felt it necessary to have the car checked. So, we Googled Subaru dealers in Amarillo and called Brown Subaru. The receptionist said that service was only open until six o'clock but, after hearing our situation, said she would check to see if someone could hang around. After fighting the five o'clock traffic, we arrived at Brown Subaru service at 5:55 p.m. We were greeted by the receptionist and a service technician. The technician checked the car thoroughly and, after the engine cooled, found the oil was about a quart low. While he added oil, the receptionist checked all the tires, which were down about a pound, and added air as needed. When they were finished, they said we were good to go. We asked for the bill, but they said there was no charge. We wanted to give them a monetary token of our appreciation but they refused. to accept it. We were so impressed by Brown Subaru's "Show the Love" we had to share our story. Thank you Brown Subaru service!!
---
Subaru & LLS Bring Warmth to Cancer Patients - Alyssa W
On July 19, Brown Subaru partnered with The Leukemia & Lymphoma Society (LLS) of North Texas to deliver warmth & hope to patients battling cancer. Brown Subaru generously donated 80 blankets and a number of arts & craft kits to patients in treatment at Texas Oncology in Amarillo. LLS is very thankful for the love and support our patients received from Brown Subaru. Subaru supports the Leukemia & Lymphoma Society in their mission to cure leukemia, lymphoma, Hodgkin's disease, and myeloma, and to improve the quality of life of patients and their families. LLS and patients across the country thank Brown Subaru for their generosity towards our community! Because of you, our patients feel supported through their treatment and in survivorship. Thank you, Brown Subaru!
---
Subaru and NWF Loves the Earth - Terri H
We had a bad hail storm in May and many of our plants had to be pulled and replanted but that just means we will have longer produce once school starts again in the fall. We can't wait to see the garden at Will Rogers Elementary School ! Thank you so much for the addition to our garden!
---