Like with any Subaru dealership found anywhere in this country, our Amarillo, TX dealer is happy to Share the Love through our partnership with the national brand, and with local organizations that mean so much to our nearby communities. One of the most iconic organizations in the Amarillo area is the Snack Pak 4 Kids effort, which has been feeding hungry children for the past decade. Even in the best of times, kids going hungry without the proper nutrition and support at home has been a huge problem, but this year, as with every shortcoming with our society, it's only been compounded.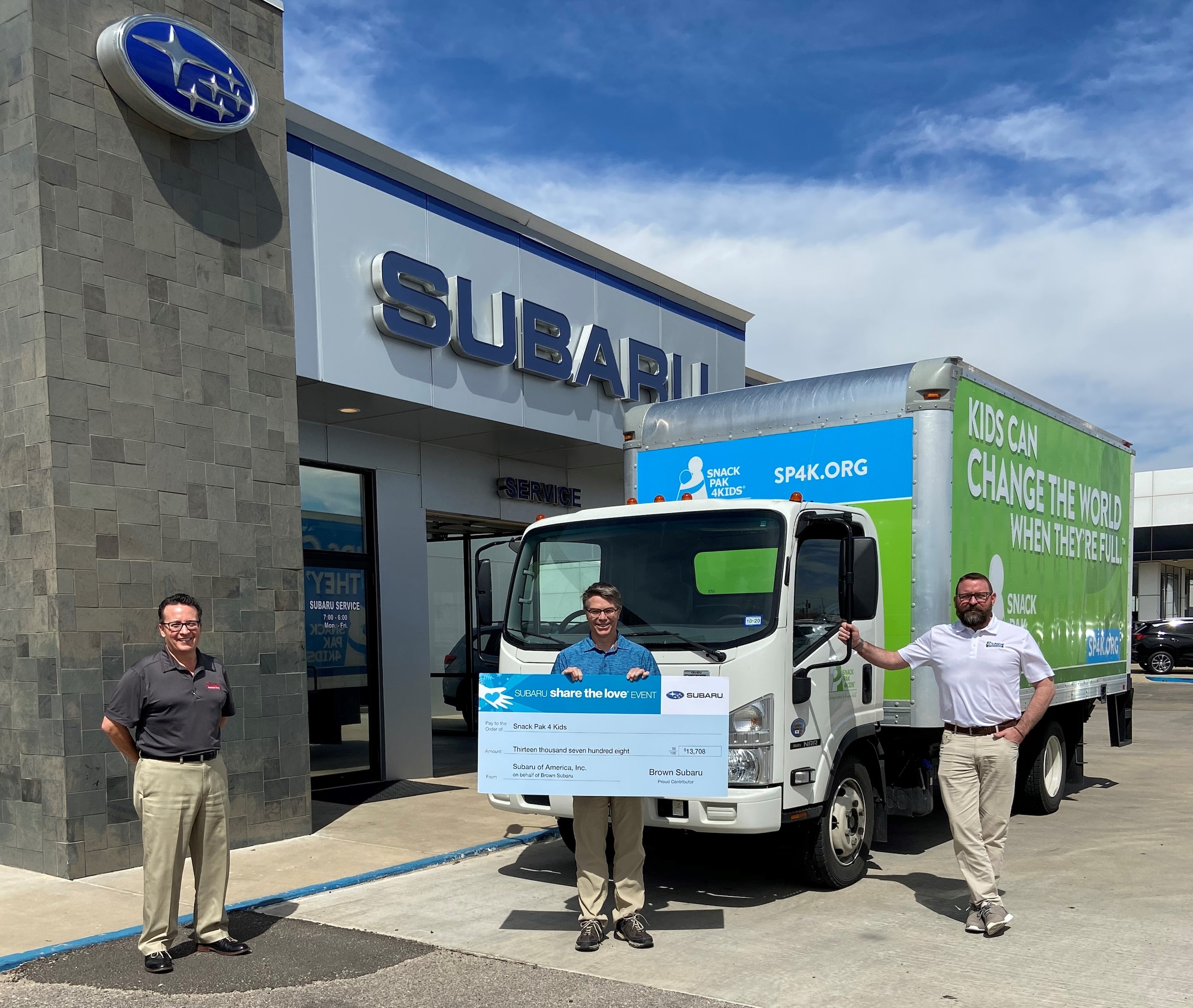 Poncho Quintanilla, Subaru Sales Manager, Brown Automotive;Dyron Howell, Executive Director, Snack Pak 4 Kids; Kyle McAdams, General Manager, Brown Automotive
As a proud sponsor of Snack Pak 4 Kids, our Amarillo Subaru dealership was proud to direct our Share the Love efforts toward this great organization. With the program serving more than 10,000 children across 51 different school districts, it takes all kinds of support and sponsorship from the Amarillo area's local churches, community organizations and businesses like ours. We're proud to be a part of the team that joins together to make sure kids can get healthy, brand-name food every weekend when they need it most.
Snack Pak 4 Kids began when the organization's founders discovered how many children in the Amarillo area go without any, enough or the right kind of food on weekends. While the school districts in this region of Texas can provide weekday meals, it became apparent that much more support was needed on weekends. Through the support and sponsorships from events like our Share the Love efforts here at Brown Subaru, we're making sure more and more kids each year are sent home with backpacks full of healthy, nutritious and delicious food that's organized through their local school districts and the amazing Snack Pak 4 Kids organization.
This Spring, Brown Subaru donated $13,708 to this great Amarillo organization. To learn more about the amazing work Snack Pak 4 Kids is doing in our area, visit them online at https://www.sp4k.org/. Then, to learn more about our family-owned dealership, click here!